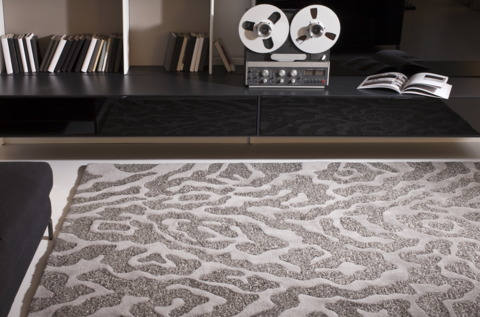 Most Rug Trends Seen In 2016 Hold True This Year
Over the course of time, rug trends have gone out of style, come back again and some like the "tried and trues" never do. As the years went by, we have witnessed some drastic changes in what was considered "in", as well as trends that changed so rapidly that we were unable to keep up with the demand for a specific design or type of rug.

Metallic Reigns
It started in 2015 and still continues to be a big trend this year, too. Rugs with interwoven metallic threads are already a huge deal in 2016 and, from what it seems, the years following. Used to create a stunning focal point in any room of the house, rugs with any form of metal, from glimmers or silver or gold to anything you can imagine, are real show stoppers. That aside, metallic trends are not only found in a specific type of rug. Instead, they are included in rugs with practically any material. So, you'll see them from plain to shaggy rugs, which makes this trend widespread and so perfect for the modern home, and not only!

Shaggy Rugs with Historically-Influenced Designs
Last year, it was all about keeping things as simple as possible. Minimalistic design flourished. However, this year, we see more texture in the rug's pile itself and, of course, color. In the distant past, colors such as purple and gold were very popular. It seems that they are having a strong comeback and are already seen in many rugs in 2016. When it comes to texture, the beloved shaggy rugs that were a huge trend in the 1960s and 70s are, once again, giving a luxurious, comfy vibe to many homes. If you like grandeur, you'll definitely love them!

Designs from the Natural World





If you find historically-influenced designs rather too flamboyant for you and would like something with more neutral tones and designs, then you will probably like the natural rug trend. With designs stemming from the natural world, you can come across a wide range of collections of hand-knotted, contemporary, and custom rugs to satisfy your stylistic requirements. For a truly fashion-forward home, there are also rugs with designs of the microscopic details one can find in nature, as well as the way light creates reflections and shadows. With more neutral tones (i.e. beige, ochre, and brown) across a room but also bold splashes of color from time to time, one thing is for sure: you will be spoilt for choice.

Bringing the Outside Inside
Decidedly a fascinating trend for 2016 and probably next year, at least. We've seen this trend grow and mature in the last 18 months and can't say we are not happy about it! Using the outside world as a source of inspiration and bringing it to interior design is something nobody can easily pass on to. We leave neutrals behind and welcome bright green hues and florals in the pattern designs. As of now, this trend applies to all rug pile types, textures, and rug types and has already extended to other forms of interior design with houseplants, pieces of wood playing the role of curtain poles and more!

Layering
We have heard it mentioned a whole lot in fashion-related topics. Layering has been huge for many years now and is a way to put together some outfits the smartest possible way. This year, though, layering is intended for rugs. Although it's a trend that took its baby steps some 6 years ago, it's making leaps this year. Layering rugs with natural fiber and jute foundations is an easy-to-embrace trend that increases the awe factor in a space instantly. This is a particularly appealing trend to people more into the bohemian style. However, it is also a trend that homeowners with more traditional spaces can use and add dimension and depth to their interior design, as well as an effortless, comfortable, and inviting lived-in feel, by layering rugs with different patterns or textures. Ready to create a design look layering rugs?

Here are some examples to help you out as it is a beautiful yet demanding rug trend, given that you'll need some help as to which types of rugs to layer with which. For example, a large rug, say a jute one, can fill your space nicely. Layering it with a Turkish or a Flokati rug will steal impressions.

Things to Remember When Selecting Rugs to Layer
Pick two rugs that are different but complement one another. A safe bet is to start with a simple rug and a rug with a unique pattern or color. It will help create a peaceful oasis and give a relaxed vibe, as well as draw attention to them, no matter which room you place them in.
If your room has lots of colorful accents already, it's best to stick to rug neutral in color to allow the space to feel calming.
Some good matches include a solid jute rug layered by a patterned rug or a diamond patterned jute rug layered by a monochrome rug or a light-colored rug layered by a rug that features an opulent design against a deep black ground. A simple Flokati rug in beige or ivory shades as a top layer will look great with a bold patterned jute rug under it. A Moroccan rug or kilim over a large sisal or jute rug is also an excellent option to consider.
Any type of rug can be layered and be used to layer another rug, from a traditional Persian or Oriental and intricately patterned kilims to colorful over-dyed and hide or fur.
The whole point of having a second rug on top of another is to draw attention into the heart of the room.
You can layer more than one rug, especially if you want to create an eclectic bohemian vibe. However, most designers advice to stick to just two layers.
If you want to frame a rug with a more intricate design, a neutral underlayer is a must. It will provide beautiful texture and will give you a money-saving solution if you are on a budget (large rugs made from neutral fibers are very affordable, leaving much room for you to buy a beautiful smaller-size statement rug to place on top).
When you have more intense and brighter design elements in a room, the use of sisal and wool rugs will help give a much-wanted soothing color scheme.

The Bolder, The Better!
For too many years, neutral tones predominated interior design. But, bolder hues are returning to vogue, after living in oblivion for a few decades, injecting rooms with bright pops of color and adding a more playful, friskier note. In the 90s, designers would use rugs to fill every space of the home. Today, they are showing a clear preference towards using smaller rugs in multiples and play the role of accent pieces, which leaves more room for creativity and experimentation.

Primitive Prints
Rugs made by nomads in villages far away from here are much-talked about thanks to their one-of-a-kind tribal look. According to experts, weavers in the past two centuries were creating rugs from scratch, without following a diagram of what a rug was supposed to look like. They simply used their traditional patterns and designs, including geometric styles that are hugely appealing to a lot of homeowners and interior designers alike because they blend beautifully with modern interiors and go well with contemporary art due to their timeless quality and authenticity. So, if you have artwork inspired by tribal art, these rugs will complement the design of your space very effortlessly.

Rugs to Hang
Those of you in your mid-40s and older will probably remember homes, where owners would hang a rug or flokati on the wall. Back then, they didn't know they were giving texture all over the place by doing so. It was a trend people had inherited from their ancestors. Today, rugs that are more suited to small spaces (i.e. small sheepskin rugs) can be mounted on a stretcher and hung on the wall (or just pinned/taped there if super light and small) or drape over the back of chairs and couches for added texture and softness. They no longer live on the floor only; that's for sure. They usually measure less than 5 X 7 feet, like most tribal rugs, and translate as wall art extremely well. The best thing about hanging rugs, though, is that you throw them in unexpected areas and add texture and dimension, giving an impressive result that pleases the eye.

Rugs Acting as Room Dividers
Long gone are the days when we would use massive rugs to cover the entire floor. Nowadays, designers prefer to break up large rooms into smaller sections with the use of smaller rugs. For example, placing a rug under a table can indicate the eating space while one placed under an armchair next to a small round table could designate a reading nook. What's even more exciting about this trend is that smaller rooms can benefit from it and leave more of their floor exposed, making the space more intimate, say interior design experts.

Source: http://www.loveyourrug.ca/area-rug-blog/biggest-rug-trends-in-2016/