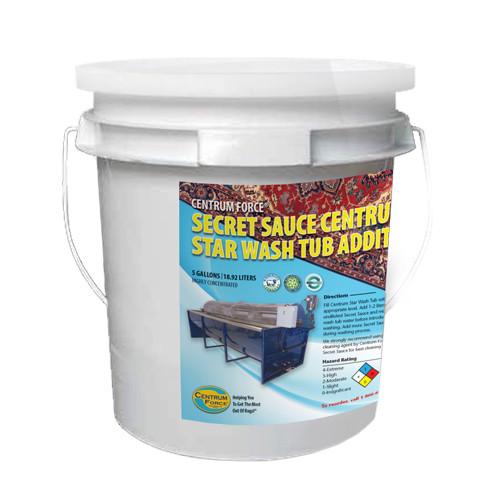 Secret Sauce Takes The Fear Out Of Washing Rugs Together
"A highly effective tool"
"We started using Secret Sauce when we bought the Centrum Force wash tub about 7 years ago. What it does is protect rugs from re-depositing dyes that might bleed out into the water while in the tub together. That is exactly what this stuff does.
Secret Sauce gives us the confidence to be able to wash 10 or more rugs together–even ones that may have some bleeding issues–and know that we are not likely to see any problem. While any rug washing pro should always use good judgment as to what textiles are washed together, we think Secret Sauce is a highly effective tool and recommend it for any shop using the Centrum Star Wash Tub." -Bob Carr, Carr's Rug Cleaning, Knoxville, TN
Secret Sauce is a highly effective dye management additive that has a strong attraction for anionic dyes common to rugs and other textiles that come loose in solution. That's why it is so important to include this product every time you utilize the Centrum Star Wash Tub with multiple rugs. The gentle action of the paddle wheel provides even distribution throughout the tub to insure the protection you need.
Simply put, Secret Sauce takes a lot of the fear out of washing many rugs together.
Secret Sauce is best used with our micelle infused rug washing soap, Knock-out. Secret Sauce targets all anionic dyes, which bleed out of rugs during the tub washing process.