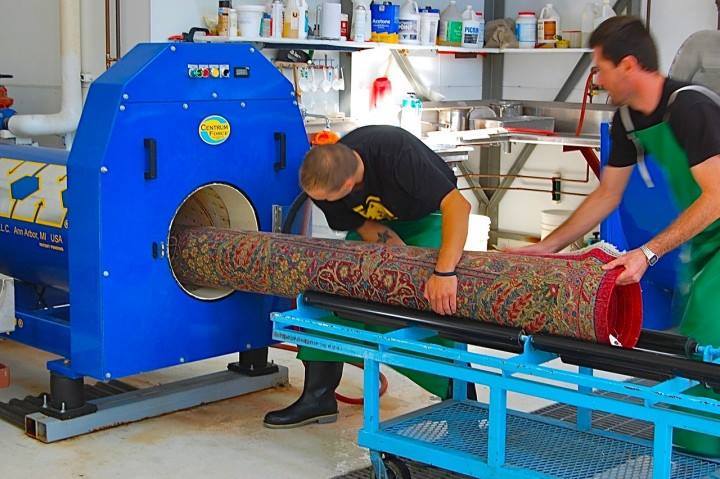 ⭐⭐⭐⭐⭐ "Your equipment has been the right choice for us." | Rug Wringer Centri-Maxx 14' Dual Port (Centrifugal)
⭐⭐⭐⭐⭐ "Dear Tom,
Having the Centri-Maxx® and Wash Tub in our plant for a few months now I can say we are very pleased with them.
The centrifuge has substantially reduced drying times, nearly eliminated all re-cleaning of fringes, and allowed us to hang certain rugs we would have otherwise dried flat, improving both the efficiency and quality of our process. The wash tub has increased our capacity, allowing us to clean more rugs at the same time, and is a very useful tool for removing embedded sand and grit from rugs.
Working with you has been great and I can say without a doubt that bringing in your equipment has been the right choice for us.
Best wishes,
Robert Mann
Robert Mann Oriental Rugs
Denver, Colorado"
The Dual Port Centri-Maxx is the industry's only rug-wringing centrifuge designed to provide complete access to both ends of the spinner cylinder. This delivers all of the benefits of our single-port models, but also gives you the flexibility to load and unload rugs from either end of the machine as well as the ability to dry multiple rugs at the same time.
Learn more:
https://www.centrumforce.com/products/centri-maxx-14-dual-port-stainless-steel-finish